Ajin
Updated: 2013.09.29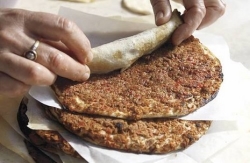 Ajin
A•jinꞋ (Borrowed from Arabic.) Bread dough from which several types of Tei•mân•iꞋ breads are made. Basic recipe (refine over time)—çÈìÈá (khâ•lâvꞋ, or substitute margarine for butter):
4 cups flour

2 Tablespoons vegetable oil

2 Tablespoons vinegar

1 teaspoon salt

1 teaspoon sugar

2 cups water, or enough to make a soft dough

¼ pound butter, at room temperature
Mix everything except the butter together, knead a bit for smoothness. Then cover and rest the dough for three hours.

Divide the dough into 8 pieces. Flatten out one piece to about six inches in diameter. Incorporate about two teaspoons of butter into the dough circle, pushing and kneading it in but maintaining the circle.

Cut a line open from the center of the circle to the outside edge. Take one end and roll it around counterclockwise into a small cone. These are ajins. (See Jakhnun for a photo of a finished recipe using ajins.) Prepare all pieces of dough in the same way. Bake as directed in individual recipe.

© 1996-present by Paqid Yirmeyahu Ben-David,
Google+ registered author & publisher
Google+ Nᵊtzâr•imꞋ page