Ei•sâuꞋ-Εd•ōmꞋ and capital, Mt. Sei•irꞋ (בָּצְרָה, corrupted to "Bozrah")
Har Sei•irꞋ – ruins of ancient capital, בָּצְרָה (corrupted to "Bozrah")
Ei•sâuꞋ עשוו, שעיר, Eisau, Eisav, Seir(They made it!), from the verb עָשָׂה (â•sâhꞋ; he did, he made), referring to RiꞋvᵊq•âh's ; Hellenized (de-Judaized) to "EeꞋsau"
As Ei•sâuꞋ was born of the same mother as Ya•a•qovꞋ, yet was an Arab (the Εd•om•iꞋ tribe), Ei•sâuꞋ is proof that simply being born of a Jewish mother or having Jewish DNA isn't sufficient to make one a Jew by the Biblical standard. Abandoning Tōr•âhꞋ excludes even one born of a Jewish mother from Yi•sᵊr•â•eilꞋ and from the definition of a Jew.
Because Ei•sâuꞋ traded his birthright inheritance for a pot of "הָאָדֹם הָאָדֹם" lintel stew (bᵊ-Reish•itꞋ 25.30), he became called אֱדוֹם, patriarch of the אֱדוֹמִי tribe of Arabs.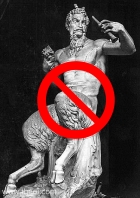 Hellenist Greco-Roman Pan
Because Ya•a•qovꞋ declared to his mother, RiꞋvᵊq•âh, that עֵשָׂו אָחִי אִישׁ שָׂעִר (bᵊ-Reish•itꞋ 27.11), the name שָׂעִיר – goat-like or satyr-like – has also been associated with עֵשָׂו-אֱדוֹם. As a result, עֵשָׂו-אֱדוֹם has been associated with the Greek satyr idol Pan.
That עֵשָׂו-אֱדוֹם-שָׂעִיר settled and conquered the land of the Sᵊir•imꞋ, הַר-שֵׂעִיר (capital of Ë•dōmꞋ at Bâ•tzᵊr•âhꞋ), firmly corroborated the association. This association with the Greek satyr idol Pan, in turn, shares a connection with Sâ•tânꞋ. This resulted in אֱדוֹם becoming the symbol of Sâ•tânꞋ – and Hellenist Greek – Christian – Rome! This connection, in turn, further connected (see Sâ•tânꞋ) with the "Great Whore of Babylon, the Mesopotamian idol Ishtar (morphed into Greek Aphrodite, morphed into Roman Venus, morphed into Latin Lucifer).

© 1996-present by Paqid Yirmeyahu Ben-David,
Google+ registered author & publisher